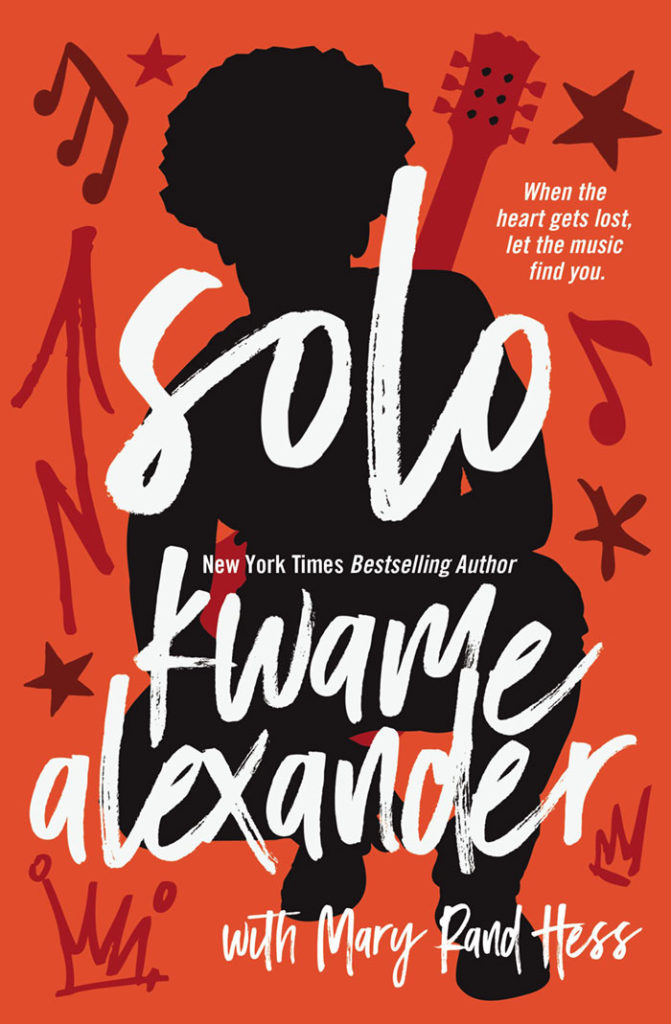 AVALABILE AT: INDIEBOUND |  AMAZON  |  B&N  |
SOLO – New York Times Bestseller!
Blade never asked for a life of the rich and famous. In fact, he'd give anything not to be the son of Rutherford Morrison, a washed-up rock star and drug addict with delusions of a comeback. Or to no longer be part of a family known most for lost potential, failure, and tragedy, including the loss of his mother. The one true light is his girlfriend, Chapel, but her parents have forbidden their relationship, assuming Blade will become just like his father.
In reality, the only thing Blade and Rutherford have in common is the music that lives inside them. And songwriting is all Blade has left after Rutherford, while drunk, crashes his high school graduation speech and effectively rips Chapel away forever. But when a long-held family secret comes to light, the music disappears. In its place is a letter, one that could bring Blade the freedom and love he's been searching for, or leave him feeling even more adrift.
"I've been a fan of Kwame Alexander for a long time, but this book is special." —John Green, New York Times bestselling author of The Fault in Our Stars and Turtles All The Way Down
"A contemporary hero's journey, brilliantly told." —Kirkus Reviews, starred review 
"A rhythmic, impassioned ode to family, identity, and the history of rock and roll." —Booklist, starred review
"Many readers will identify with Blade's struggle to find his place in a family where he feels like an outsider." —Publishers Weekly
"The authentic character development and tone will strike a chord with young adults." —School Library Journal
"A gorgeously lyrical and passionate meditation on family and identity. Solo is Kwame Alexander at his finest." ~Nicola Moon, New York Times bestselling author of Everything, Everything
 "From the lyric verse to the driving beat of the storytelling, this book is music, and beautiful music." ~Ellen Hopkins, New York Times bestselling author of The You I've Never Known
Solo Nominations, Awards, and Distinctions:
The 2018 Children's Africana Book Awards, SOLO (Honor Book)

Audie Award Finalist (Young Adult Literature), 2018

Young Adult Virginia Authors (YAVA) Award Nominee

NAACP Image

Awa

rd for Outstanding Literary Work – Youth/Teens (Finalist)
Junior Library Guild Section
Goodreads Choice Awards Best Poetry 2017 (Finalist)
The 2017 Nerdies: Poetry and Novels in Verse
Teen Choice Book Award Nominee
Best Teen Books of 2017
Audio File Earphones Award Winner!
"This novel-in-verse, written by Kwame Alexander with Mary Rand Hess, sings with the despair, hope, and love that wash over 17-year-old Blade, a budding musician. Alexander's affection for Blade is obvious through his narration. He wrings every drop of emotion from a poignant story of a teen who is missing his mother, who died years ago, and battling his father, a broken-down rock star who is incapable of staying sober or taking responsibility for anything or anyone. When Blade's girlfriend deserts him and his sister reveals a devastating family secret, Blade leaves for Ghana to discover his true history. Peppered with references to songs by famous rockers like Lenny Kravitz and Stevie Nicks, Blade's own songs–set to music and sung by Randy Preston–are an integral part of this moving audio production." –S.G. Winner of AudioFile Magazine Earphones Award © AudioFile 2017
YALSA Quick Pick Nomination for Reluctant Readers in the Novels in Verse Category!
"The fast-paced, rhythmic verse engages readers immediately into Blade's rock star world. Plenty of white space makes the book accessible and appealing to reluctant readers. Candid yet witty wordplay lends humor to otherwise intense situations. Musical references abound, which may entice readers to create a playlist. During Blade's expedition in Ghana, the complexity of the Morrison family dynamic highlights the flawed characters, while at the same time creating a likeability, even sympathy, for Blade's dysfunctional father. The richly detailed Ghana environment provides a strong sense of place, one that will change Blade and his family forever.
Readers of character-driven fiction will be fascinated by Blade's journey. Particularly, fans of books with music thrown into the mix, such as Exile by Kevin Emerson or Eleanor & Park by Rainbow Rowell will adore Solo.  Additionally, music fans will relish the audio version of the book, which is narrated by Kwame Alexander himself and includes musical performances by Randy Preston that reflect Blade's moods and poetry throughout the story."
For more on SOLO, visit: http://kwamealexander.com/solo/