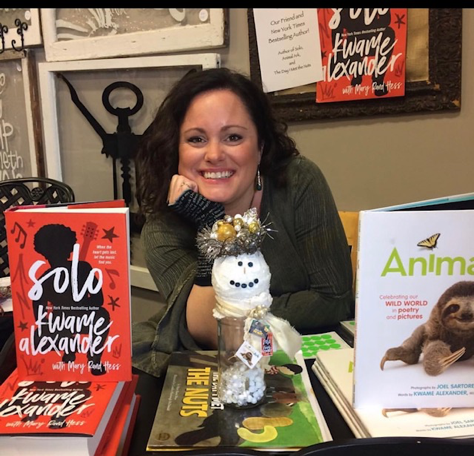 SOMETHING ABOUT MARY
Growing up, there were all kinds of songs, nursery rhymes, and movies with characters named Mary. None of them about me, of course, but people would still sing them or quote lines out loud when I would pass by. I guess there's something about being named Mary. Like these quirky movies or odd-ball songs, I grew up in an eccentric household, where everyone was quite different. Dad, always the realist, could tell the best "real" stories about growing up on the farm. Mom, a former college librarian, was always creating. I remember Mom and the Northern Virginia Handcrafters Guild transforming our house for holiday shoppers.  Ahh…the smell of homemade vegetable soup and Russian tea, as patrons browsed for the perfect gift.  And my older brother, who has never met a stranger, often had a slew of friends coming and going.  Then there were the various people who lived with us throughout the years (I think we counted 12 or more).  Those passing through due to a change in opportunity or troubled times, some friends, some acquaintances, some extended family.  All with unique stories of their own.  It wasn't boring growing up on "G" Street.  You never knew who would stop by and stay for a while.
Of course, I grew up thinking I would become a rock star, but I was destined to tell stories instead. From my stage performance as Charlie Brown's love interest, to a nun in The Sound of Music, or Aunt March in Little Women, along with my impromptu puppet shows, and orchestrating a world of make believe, I never tired of storytelling.  I also took up piano lessons and started composing music of my own, performing in church, at parties, and in a restaurant overlooking Washington, D.C. during homecoming.
In college, I received a scholarship for music composition, but soon jumped ship.  I didn't want to "read" music and learn music theory.  Besides, the stories in my head were much more interesting than the story of me struggling as a musician.  So I ultimately became an English Writing major at George Mason University, where I studied under such luminaries as novelists Marita Golden and Alan Cheuse, poet Carolyn Forché, and playwright Heather MacDonald.  I had finally found my passion.
The story could go on, as all our stories could. To keep it on the long side of short, I met my husband playing make-believe my last semester in college.  I was Stella and he was Stanley in A Street Car Named Desire, secretly practicing scenes for our own play called Life.  It wasn't long before he decided to drop by "G" Street to pick me up for our first date.  We drove the short way to the Kennedy Center to see Shear Madness, and drove the long way home.  We've hardly spent a day apart since.  He has supported me through my jobs as receptionist, freelance journalist, writer and case manager, financial analyst, artist, teacher, editor and publisher, all while accepting my incessant need to write.  We make our home in Virginia with our two teenage sons who play loads of basketball, and two mischievous dogs, the real Ruby Tuesday (the one The Rolling Stones sing about) and Benny Bob (who sings while I play the piano).  Home is where I read and write, create mixed media art (some have even been shown in galleries), hang out with family and friends, including my amazing writing group, secretly compose on the piano, and still pretend I'm going to be a rock star someday.